Shopping for the best fridge-freezer for your next kitchen upgrade can be a bit intimidating, especially when there are too many options to choose from. But, don't worry! We are here to help you out!

From our extensive catalogue, we have selected our 7 best-selling fridge-freezers from our partner brands who are known for their world-class cooling technologies!

Developed by the world's leading refrigerator specialists, these fridge-freezers are all made with the latest tech that can completely reinvent your kitchen! Check out how they differ from each other with this table: 
Product

Height x Width

Freshness Control 

Dedicated Air Filter 

Automatic Ice Maker

Duo / DuplexCool

Miele KF2802Vi
HKD 91,458
SGD 16,189
KRW 14,176,000 

212 x 76 cm
MasterFresh
Active AirClean Filter

✔️

✔️

Liebherr ECBN6256
HKD 65,076
SGD 11,519
KRW 10,087,000

203 x 90 cm

BioFresh

❌

✔️

✔️

Liebherr ECBN5066
HKD 59,658
SGD 10,560
KRW 9,247,000

203 x 76 cm

BioFresh

❌

✔️

✔️

Siemens CI24RP02
HKD 58,417
SGD 10,340
KRW 9,055,000

+

Siemens FI24NP32
HKD 60,573
SGD 10,722
KRW 9,389,000

 213x60cm

+

215x60cm

 hyperFresh Premium

 0°CAirFresh Filter

 ✔️

 ✔️

Miele KFN37692iDE
HKD 31,706
SGD 5,612
KRW 4,915,000

177 x 55 cm  

PerfectFresh Pro 

❌ 

✔️ 

✔️ 

Miele KFN37682iD
HKD 27,741
SGD 4,911
KRW 4,300,000

177 x 55 cm
PerfectFresh Pro

 

❌

 

❌

✔️

Liebherr SBS7014
HKD 35,255
SGD 6,241
KRW 5,465,000

117 x 112 cm

BioFresh

❌

❌

❌

Miele KFN37432iD
HKD 23,776
SGD 4,209
KRW 3,686,000

177 x 55 cm

❌

❌

❌

✔️
Top-of-the-line: Everything you need and more
Miele KF2802Vi 212 x 76 cm 
Price: HKD 91,458 / SGD 16,189 / KRW 14,176,000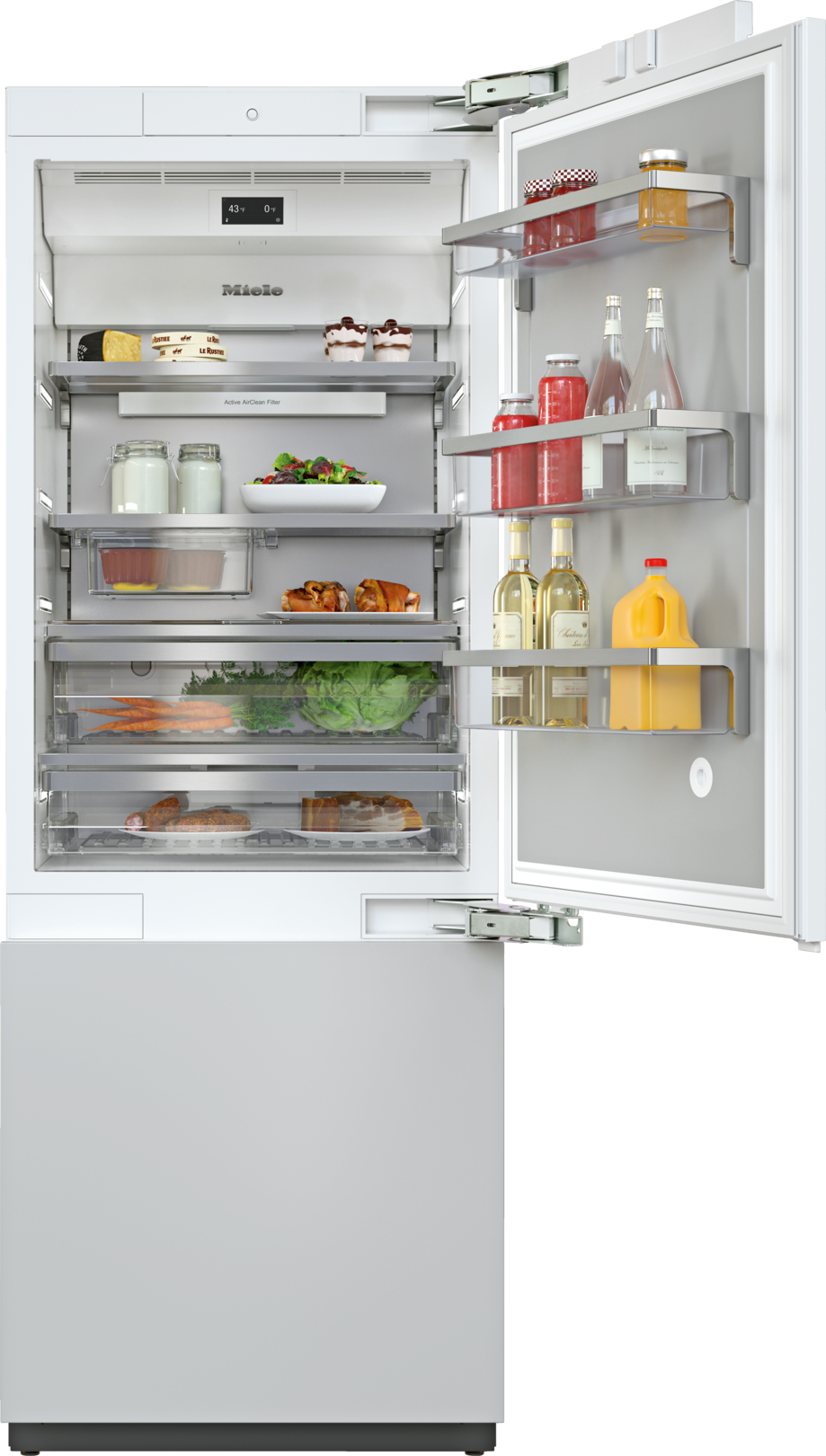 Wow your guests with this state-of-the-art fridge-freezer from Miele! 
Featuring their cutting-edge MasterFresh tech, its compartments are built to create the perfect climate to keep your food fresh while preserving their vitamins and nutrients! By adjusting its individual sensors, you can adjust its temperature and humidity depending on your stored produce, fruits, vegetables, and more! 

And, you don't have to worry about unwanted smells from spoiling your food! By integrating their DuplexCool Pro tech, this model is engineered to prevent odor transfer by using separate compressors and cooling circuits to avoid air exchange between your fridge and freezer. And, it is also equipped with its exclusive Active AirClean filter, a food-safe filter made of active charcoal and chitosan that is amazing in eliminating odors!

But, that's not all! This model is also equipped with the Push2Open feature. So even though your hands are full, you can still open your fridge with just a small nudge of an elbow. And with its own Miele@home app, you can enjoy all of its smart features to the fullest using your mobile phone, or even voice!
Siemens CI24RP02 & Siemens FI24NP32
Price: 
HKD 58,417 | 60,573
SGD 10,340 | 10,722
KRW 9,055,000 | 9,389,000
Gone are the days where refrigerated food is considered boring, bland, and unappetizing! 
Perishables such as meat, fruits, and vegetables are sensitive to changes in temperature and humidity. So to avoid spoiling your food, you should store it inside this fridge's hyperFresh Premium 0° C cabinets where it optimizes its own temperature and humidity depending on its stored goods. 
But, that's not all! Did you know that adding new food inside your fridge-freezer can mess up its temperature? Luckily, this cooling combo is equipped with a superCooling fridge button and a superFreezing freezer button! Before adding new contents inside, simply use superCooling to quickly bring down your fridge's temp to +2 °C, and superFreezing to cool down your freezer to –30 °C to prevent thawing your other frozen goods inside!
And, you wouldn't have to worry about your food going bad when you're away for the holidays! Thanks to its holidayMode, it maintains your fridge and freezer's perfect storage temp while saving on energy! And, if you forgot to turn on this feature before flying out to your vacation, you can also remotely activate it with the Home Connect app! With this app, you can also take a peek inside your fridge's contents with its in-fridge camera, manage all of its temp controls, and more! 
Liebherr ECBN6256 203 x 90 cm
Price: HKD 65,076 / SGD 11,519 / KRW 10,087,000
This french-door model uses Liebherr's latest cooling innovations to keep your food's freshness longer!

Once you have placed your new groceries inside your fridge, this model's SuperFrost feature will kick in! Warm air outside creates temperature fluctuation in your fridge, which hampers preservation of the food's freshness. SuperFrost minimizes such temperature fluctuation by rapid cooling. Then after achieving its ideal temp, it will revert back to normal cooling to save energy.

But, it doesn't end there! Since every food has different optimal conditions to prolong its freshness, this fridge's compartments equipped with BioFresh optimizes the temperature and humidity of each compartment. From fresh produce, to dairy products, and even wine--BioFresh can create the perfect climate to preserve their quality. 

And since this model also has DuoCooling feature which uses separate compressors for its fridge and freezer, you won't have to worry about any unwanted odors leaking out and affecting your stored produce. 
Liebherr ECBN5066 203 x 76 cm
Price: HKD 59,658 / SGD 10,560 / KRW 9,247,000
Looking for a more compact fridge-freezer without sacrificing its premium features? This model might be your best bet! 
Similar to our previous Liebherr fridge-freezer, this model also features spacious BioFresh compartments powered by the SuperFrost tech to keep all of your stored food fresher, longer! And, it is also built with Liebherr's latest DuoCooling technology, an innovation that uses two different cooling circuits for its fridge and freezer to protect your food from unwanted odor transfer.
Mid-range fridge-freezers: Stepping up the competition without breaking the bank! 
Miele KFN 37692 iDE 177 x 55 cm
Price: HKD 31,706 / SGD 5,612 / KRW 4,915,000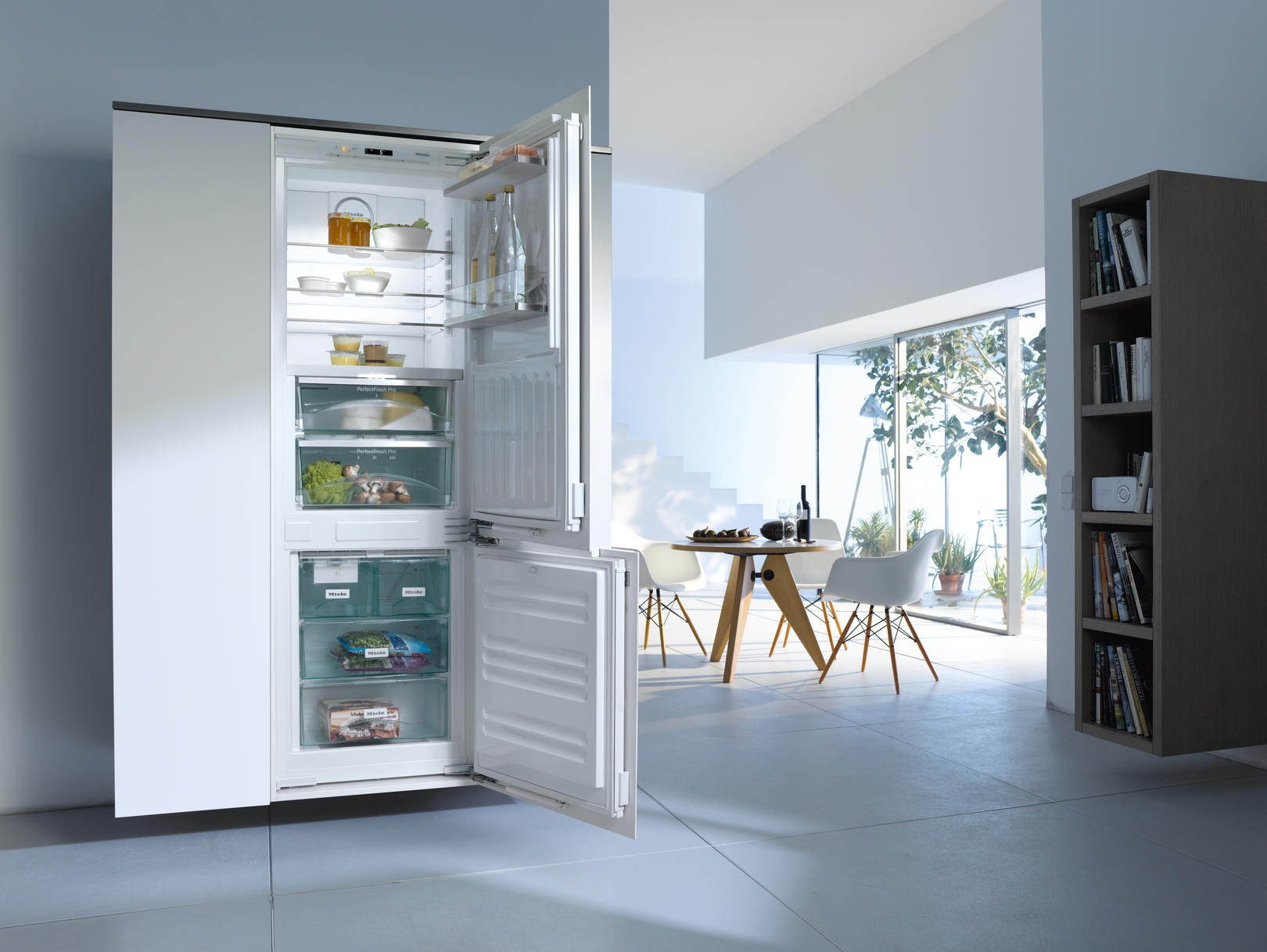 Favored by many, this premium fridge-freezer can make your kitchen feel more special!  
This sleek and elegant fridge built by Miele is equipped with their latest PerfectFresh Pro compartments that delivers professional-grade cooling to preserve your groceries' taste and freshness. By bringing the temperature near the freezing range (0 °C and +3 °C), your stored produce, dairy products, fruits and vegetables stays fresh up to 5x longer!
And although your perishables' odor may spoil your other stored food, its DuplexCool tech prevents unwanted odors from affecting your food by restricting the air transfer between your fridge and freezer! And what's more—you can also control this fridge remotely with the Miele@home app! With this app, you can link your other compatible smart appliances to control their features remotely using your mobile phone or even your voice!
Miele KFN 37682 iD 177 x 55 cm
Price: HKD 27,741 / SGD 4,911 / KRW 4,300,000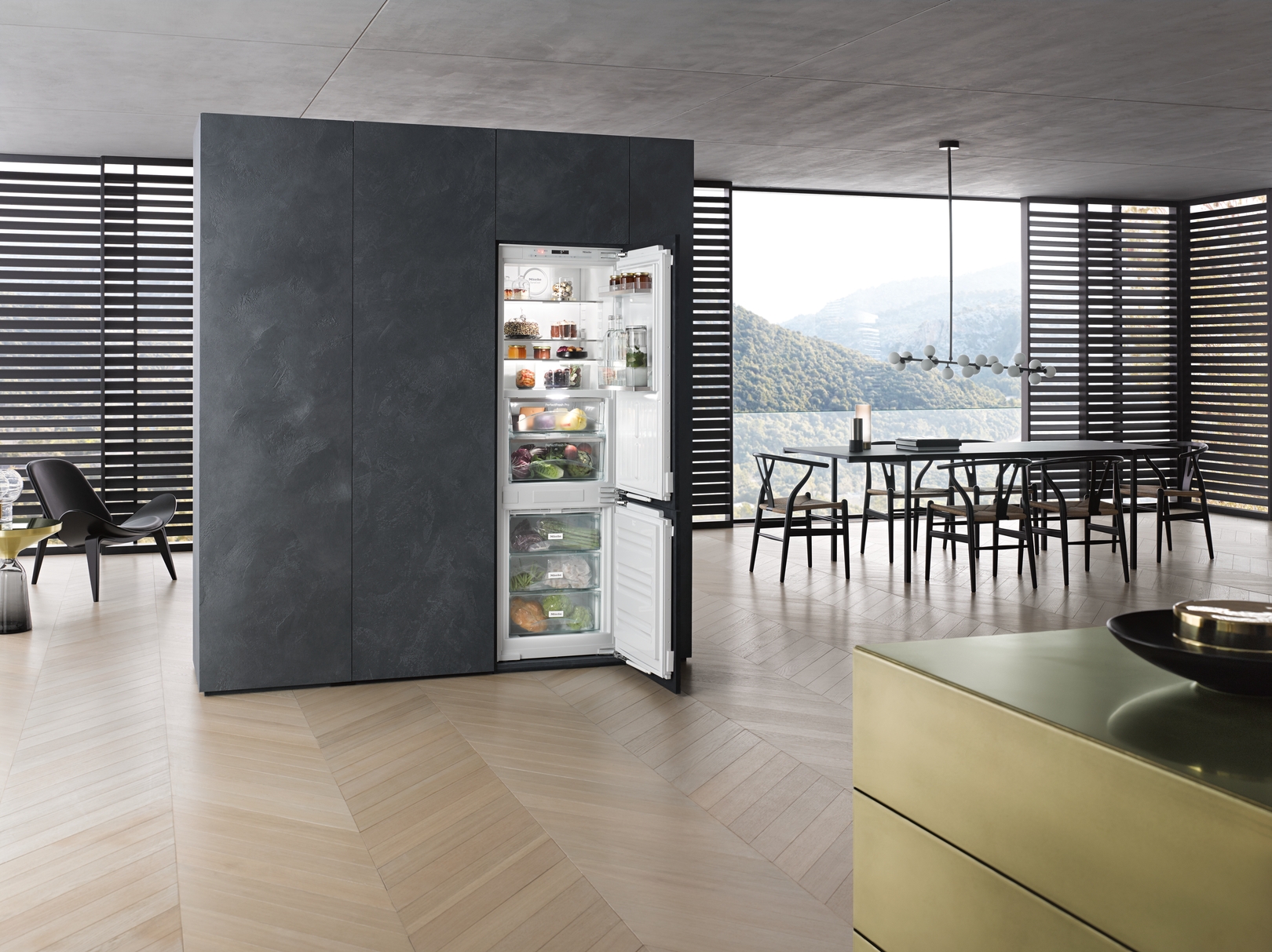 Sugar, spice, and even wine—this fridge-freezer lets you store anything you want!
With DynaCool, it keeps all of your food and beverage in best quality 5x longer than other brands by regulating the ideal temp in all of its PerfectFresh Pro compartments! And since we are also talking about storing wine in this fridge-freezer, this model is also guarded with a child lock system to keep tiny hands away from it! And if they tried to pry, your Miele@home app can ping you up!
Liebherr SBS7014 117 x 112 cm
Price: HKD 35,255 / SGD 6,241 / KRW 5,465,000
Be in control with just a tap!
Liebherr's mid-range entry makes a smart entrance with its integrated touchscreen controls where you can monitor your fridge's temp, manage its other features, and more at a glance! This side-by-side fridge-freezer is also built for bigger households in need of more storage space since its glass shelves are easily customizable to free up more room for your food. And of course, this model is also equipped with Liebherr's latest BioFresh compartments made more powerful by their SuperFrost technology.
Fridge-freezers for starters: Chillin' with the essentials
Miele KFN 37432 iD 177 x 55 cm
Price: HKD 23,776 / SGD 4,209 / KRW 3,686,000
Light on the budget, light on the mind!
This model is perfect for smaller homes looking for a modest fridge upgrade! It is equipped with Miele's latest DynaCool that regulates your fridge's temperature so you can store any groceries anywhere in the fridge! And thanks to its NoFrost feature and ComfortClean tech, cleaning out this fridge-freezer doesn't have to be too much of a hassle since its premium door shelves are all dishwasher safe!

Oh, you can also link up this fridge to your Miele@home app so you can be in control, wherever you are! 
Still can't choose? We're here to help! 

You can browse our extensive collection of fridge-freezers here, or you can reach out to us by using any of our contact details below! And because we guarantee your 100% satisfaction, we offer our store-exclusive 2 year warranty and lifetime repair support in all of our products!